Season 1 is the first season of Vampirina, the season was announced in March 2016. the season is set to premiere two episodes on October 1, 2017.
Plot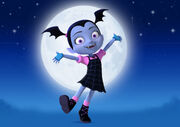 Set in an urban Pennsylvania neighborhood, Vampirina is centered around Vee as she settles into her new surroundings, including making friends and attending a new school. Excited to experience everything that the human world has to offer, Vee will learn that while it may be easier to blend in with her peers, it's important to celebrate the differences that make everyone unique. Always by her side, Vee's mom and dad are also adapting to their new life as proprietors of the local Scare B&B, a bed and breakfast for visiting ghouls and goblins.
Cast
Episode List
No. of episode
Episode name
Airdate
Overall
Season
1a
1a
Going Batty
October 1, 2017
Vampirina is nervous about making new friends after she and her family move from Transylvania to Pennsylvania.
1b
1b
Scare B&B
October 1, 2017
The Hauntley's open up a Scare B&B and accidentally book two groups for the same night.
2a
2a
The Sleepover
October 1, 2017
Vee invites her new human friends over for a sleepover.
2b
2b
Portrait of a Vampire
October 1, 2017
On Vee's first day of school, she gets frightened during her class photo and leans on her new friend, Poppy, for support.
3a
3a
Vee's Surprise Party
October 2, 2017
Vee invites her class over for a party full of spooky surprises.
3b
3b
Vee Goes Viral
October 2, 2017
While trying to learn a new dance, Vee unknowingly teaches her friends a dance that gets the attention of a competitive ghoul, Dragos the Dancer.
4a
4a
The Plant Predicament
October 6, 2017
Edna enters a Green Thumb Contest and accidentally plants some of Oxana's magical Transylvanian seeds.
4b
4b
Mummy Mayhem
October 6, 2017
When Vee goes on a field trip to the Natural History Museum, she runs into an old family friend, King Pepi.
5a
5a
Little Terror
October 9, 2017
Vee and her friends volunteer to babysit for her baby cousin.
5b
5b
Super Natural
October 9, 2017
When a family of ghost hunters comes to stay at the Scare B&B, Vee and her family spend the day trying to prove that their house is not haunted.
6a
6a
Vamping Trip
October 13, 2017
Vee and her family go on a camping trip.
6b
6b
The Monster Snore
October 13, 2017
A monster gets lost on his way to the Scare B&B and ends up at the wrong house.
7a
7a
Bone Appetit
October 16, 2017
Demi brings the infamous Chef Remy Bones to the Scare B&B to help with the meal preparations.
7b
7b
Woodchuck Woodsies
October 16, 2017
Vee joins Poppy and Bridget at a Woodchuck Wooodsie event.
8a
8a
The Little Witch
October 20, 2017
The most famous witches in all of Transylvania come to stay at the Scare B&B with their adorable daughter, Phoebe.
8b
8b
Hide & Shriek
October 20, 2017
Vee invites her friends over for a game of "hide and shriek".
9a
9a
Vampire Weekend
October 23, 2017
During a full moon, Vee and Poppy magically switch places and Vee transforms into a human and Poppy into a vampire.
9b
9b
The Bird Who Knew Too Much
October 23, 2017
When Vee and Poppy's class pet comes to stay at the Scare B&B, they have to stop the bird from revealing too much about the haunted house to Poppy's brother, Edgar.
10a
10a
The Ghoul Girls
October 27, 2017
Vampirina's favorite band, The Scream Girls, comes to stay at the Scare B&B and help Vee and her friends overcome their stage fright.
10b
10b
Game Night
October 27, 2017
Vee invites her friends over for family game night and teaches them some of her favorite Transylvania games.
11a
11a
Oldie But a Ghouldie
November 3, 2017
When the family does some spring cleaning, Gregoria worries that she'll be thrown away.
11b
11b
Beast in Show
November 3, 2017
Wolfie enters a dog show but Vee realizes it's not like the ones back in Transylvania.
12a
12a
Critters!
November 10, 2017
When a Critternarian arrives, Vee tries to help him look after a mysterious egg.
12b
12b
Cuddle Monster
November 10, 2017
A cuddle monster staying at the Scare B&B wants to learn scaring techniques from Vee.
13a
13a
Batty Fever
November 17, 2017
Vee and her family catch the batty fever and Demi and Gregoria had to find the cure.
13b
13b
Poetry Day
November 17, 2017
Vampirina helps Bridget practice for poetry day.
14a
14a
Nanpire the Great
December 1, 2017
Vee's grandmother, Nanpire the Great visits from Transylvania and cooks a traditional vampire dish for the class potluck.
14b
14b
Two Heads Are Better Than One
December 1, 2017
The Scare B&B gets a two-headed guest just in time for the Friendship Festival.
15a
15a
Vee Is for Valentine
January 12, 2018
TBA
15b
15b
Scarestitute Teacher
January 12, 2018
TBA
16a
16a
Look Who's Scared Now!
February 16, 2018
TBA
16b
16b
Dust Bunnies
February 16, 2018
It is time to give the house its one-hundred year clean. While her parents leave to buy some cleaning accessories, Vee and her friends are left to clean the house. Demi tries to use magic to clean the house faster, but instead conjures up Dust Bunnies who begin to wreak havoc.
17a
17a
Vampirina Ballerina
March 16, 2018
Vee gets stage fright during a ballet performance.
17b
17b
Treasure Haunters
March 16, 2018
Vampirina and her friends help a ghost pirate search for treasure so that he can be freed from a haunted map.
References